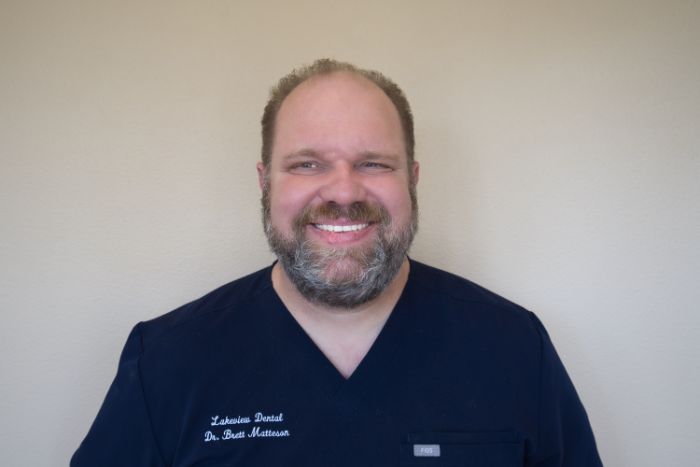 Alvin Brett Matteson, D.D.S., FACP
Dr. Brett Matteson completed his bachelor's degree in biology at La Sierra University before attending the Loma Linda School of Dentistry. He completed his Doctor of Dental Surgery degree in 2006 and in 2010 completed his Advanced Education in Prosthodontics certification through the U.S. Army® program at Fort Gordon. One year after the completion of his training as a prosthodontist, Dr. Matteson became board-certified, a status which he has maintained to this day. Dr. Matteson regularly attends continuing education courses, including an annual hands-on course as well as several courses through study clubs. He also teaches three to four continuing education courses each year.
As a dentist, he is committed to improving the quality of dentistry in the Coeur d'Alene area. As the first prosthodontic specialist in the area, his additional training enables him to provide total care to each of his patients.
Dr. Matteson has practiced in the Coeur d'Alene area since 2017. He is a member of several dental organizations, including the American Dental Association®. He is a Diplomate of the American Board of Prosthodontics and a Fellow in the American Academy of Prosthodontics. He is also an Eagle Scout, received several awards while in dental school, and also received five Army commendation medals during his military service.
Dr. Matteson met his amazing wife, Julianne, in Augusta, Georgia, at the Mellow Mushroom. She has blessed him with twins, Luke and Piper, who love the Coeur d'Alene area for ice skating and soccer.
Meet Our Team
Our friendly team is excited to meet you! We love welcoming entire families to our office, and we are committed to making Lakeview Dental a comfortable and welcoming environment. We invite you to call us at 208-664-0884 to schedule your appointment with our prosthodontist in Coeur d'Alene, Idaho, and learn more about our services. We look forward to helping you care for your smile!
Se habla español!